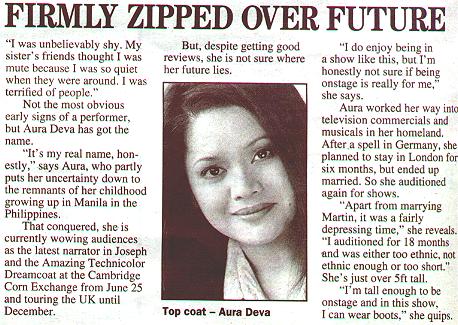 The Stage, 14 June 2001

Show People Article

The King and I

Edinburgh Playhouse

Published 25 April 2002

There is, of necessity, a certain amount cut back in the sumptuousness of this new touring production of the hit West End version of The King and I.

Not that the opening night audience at the Edinburgh Playhouse cared one jot. So far as they were concerned, the fact that the lavish glitter up onstage was adequate to start a major treasure trove was enough.

Fair enough, for every piece of wobbling set there was one more gorgeous costume to die for, for every uncooperative prop there was another great leap of dancing frivolity from the excellent ensemble and for every leaden turn of pace from the leads, there was a soaring solo from the supporting cast to look forward to.

Make no mistake, this is a great night out but it still has its sticking points. Basically, there are two shows here. There is the pedestrian main show in which Stephanie Powers keeps up with the acting but not the singing as Lady Anna and Ronobir Lahiri convinces himself but nobody else as the King. The sub plots starring strong actors and even stronger singers in Aura Deva as Tuptim, Jo-Jo de la Cerna as Lun Tha and Gina Respall as Lady Thiang, is a slick extravaganza.

Blending the two together are the sweet but not saccharine elements of the children who performed consistently well. And just to make sure that the cracks are not too noticeable, the Small House of Uncle Thomas ballet is a show-stopping treat.

By Thom Dibdin

© The Stage Newspaper Ltd 

Aura Deva's News Articles

and Show Reviews