Gareth Ellis - UK TOUR 2004

Gareth trained at the Royal Welsh College of Music and Drama.  His theatre credits include 'Annie'(tour), 'Tin Pan Ali'(National Youth Music Theatre), 'Ain't Misbehavin' ','The Global Search for New Musicals', and 'Jubilee'(International Festival of Musical Theatre, Cardiff), 'Carmen'(New Vic Theatre, Newcastle-Under-Lyme; Octagon Theatre, Bolton; Stephen Joseph Theatre, Scarborough), 'The Rise and Fall of Little Voice'(Oldham Coliseum), 'Assassins', 'City of Angles', 'Moll Flanders' and 'Speakeasy!'(Royal Welsh College of Music and Drama), 'Babes in  Whittington'(Everyman Theatre, Cheltenham), 'Side by Side by Sondhiem'(tour), 'The Jolly Folly of Polly the Scottish Trolley Dolly'(Edinburgh Festival 2001 award winner).  Gareth composed the scores for 'Twelfth Night' and 'Aladdin' at the Everyman Theatre, Cheltenham.  His TV work includes 'Songs of Praise'(BBC), 'Large and High Hopes'(BBC Wales).  He has performed piano concertos by Rachmaninov, Saint Saens, Grieg and Gershwin.  He has worked as accompanist and repetiteur with vocalists including Ruthie Henshall, Peter Karrie, Rebecca Evans, Cara O'Sullivan and Shan Cothi.

David Rose - WEST END 2004

David trained at the Welsh College of Music and Drama and Bath Spa University College where he studied compostition.  He has written and arranged music for several plays including 'The Caucasian Chalk Circle', Broken Glass' ,'A Midsummers Night's Dream' and more recently, a musical based on John Steinbeck's 'East of Eden'.  As Musical Director, David has worked on productions of 'My Fair Lady, 'Cabaret; and 'The Grand Duchess'.

In 1998, he joined the national tour of 'Joseph' and became Musical Director of this production for the 2000 - 2001 tour.  SInce then David has continued to tour with Bill Kenwright's new production of 'Whistle Down the Wind'.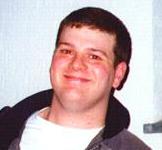 Robert Chalmers - UK TOUR 2005

Tom Carradine  - UK TOUR 2007 - Aug to Dec

Tom was born in Coventry and graduated from Imperial College London in 2004 with a degree in Biochemistry and Management.  He currently works as a freelance musical director and keyboard player.  Before joining the tour of 'Joseph', Tom had been working as a keyboard player on the national tour of 'Blood Brothers' and 'Mad About Musicals'.  Other musical direction credits include 'Babes in the Wood' and 'Mother Goose' (Pomergranate Theatre, Chesterfield), 'The Treason Show' (Komedia, Brighton), 'Spring Fever' (Kings's Head Theatre, London), 'Dick Whittington' (Royal Victoria Hall, Southborough), 'NewsRevue' (Canal Café, London) and a studio productions of 'Little Shop of Horrors', 'Grease', 'Personals', 'Iolanthe' and 'The Mikado'.  Alongside his work in the theatre, Tom also works as a singing teacher and repertoire coach, teaching at the Millennium Dance in London.  He is also in demand as a cabaret accompanist, playing at venues across London, including the Battersea Barge, CellarDoor, Sopranos Piano Bar and The New Players Theatre.  As a children's MD an singing teacher he has musically directed numerous youth theatre productions, most recently the UK amateur youth premiere of 'Throughly Modern Mille' (Shaw Theatre, London), 'The Wiz' (Assembly Halls, Tumbridge Wells) featuring Brain Blessed as 'The Wiz', and 'Oklahoma!' (Grimsby Auditorium). 

Gareth Weedon UK TOUR 2006 - 2007

James McCullagh

James read music at St Hugh's College, Oxford, where he was appointed organ scholar. Whilst at Oxford he acted as musical director for many productions including The Wizard ofOz, Cabaret and The Yeomen of the Guard (Old Fire Station Theatre) and MaratjSade, Iolanthe and The Oxford Greek Plays (Oxford Playhouse). After completing his studies, James worked extensively on cruise ships around the world, playing in such far-flung places as Mexico, the Mediterranean, the Panama Canal and Glacier Bay, Alaska. He then went on to spend two seasons as musical director of Cirkus Arena, Scandinavia's largest

circus, which included royal command performances for the Danish royal family, television broadcasts and a top ten album! In the UK James has worked with the New Palace Theatre Company on Fings Ain't Wot They Used t'Be and Treasure Island (Westcliff Palace Theatre), and numerous pantomime seasons for

Paul Holman Associates including Aladdin, Snow White (Grand Pavilion, Porthcawl), Snow White, Sleeping Beauty (Oakengates Theatre, Telford) and Cinderella (Playhouse, Weston-Super-Mare). He then went on to act as assistant musical director on the UK tours of Joseph and the Amazing Technicolor Dreamcoat and Disney's Beauty and the Beast, on which he became musical director. James is

delighted to be returning to Joseph as Musical Director.